Providing Christian Dramas, Plays and Music
for your Church or Organization FREE of Charge!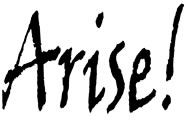 Christian Musical Drama - ARISE
Cast: 4 principles and 10+ Male and Female cast members
After angrily cautioning his nephew against following Jesus, Jairus is faced with the most difficult decision of his life. His precious only child lies dying. Now Jairus must make a life altering decision that will change the course of his family's life. After running and finding Jesus he has to hold onto his faith in the face of sorrowful news. Joy comes to all when Jesus raises his child from the dead. Join with Jairus and his family in this inspiring musical for the whole family.
ARISE: The tools you offer here are fantastic! I have been all over the internet looking for drama tools and your plays will definitely prove helpful. God bless you and thanks again. Tony / Canada
Listen to Soundtrack Samples below (note: Audio samples will open in a new Browser window.)
Watch VIDEO Segments from a Recent "Arise" Performance (YouTube)